Posted by Liz Gooster
0 Comments
achievements, breaking boundaries, Chrissie Wellington, Ironman, Rimla Akhtar, triathlon, Women in sport
A 2.4 mile swim, 112 miles on a bike, then a marathon run of 26.2 miles. This is what it takes to complete an Ironman challenge. To win one it takes someone like Chrissie Wellington: driven, passionate, focused, super-fit. At the second of the Meyler Campbell Workshops on Ultra High Performing Women, we had the privilege of hearing Chrissie, four time winner of the World Ironman Championships, and Rimla Akhtar, Chair of the Muslim Women's Sport Foundation (MWSF), member of the Football Association (FA) Council and Co-Founder of The Listening Service for positive mental health awareness and change, talk fervently about what got them to where they are now and their visions for the future. Both had left jobs they loved to follow their passions in sport and in changing the world. Both have a clear vision of what they want to achieve. Both possess a grit, inner strength and power that is incredibly inspiring. Both are amazing role models for women in sport and beyond. Chrissie started running to get back in shape after an extended 'gap year' travelling the world. She realised she'd found a talent she didn't know she had and a sport she loved when she ran a marathon for the first time (in London, 2002), completing it in 3 hours 8 minutes! Somehow she made it sound like a natural step to move on to the gruelling triathlon and then to Ironman, in which she became World Amateur Champion in 2006, aged 29. In 2007 Chrissie entered her first professional Ironman World Championship. Her goal was getting into the top 10. She won. This was a remarkable achievement, one previously viewed as almost impossible for any rookie. Yet while she made it look easy, it wasn't.
Chrissie described being almost paralysed by uncertainty when she had to decide whether to become a professional athlete, leaving her beloved job of government policy advisor on international development. And being the world's top Ironman triathlete doesn't mean it doesn't hurt. Indeed, Chrissie says being a professional sportsperson means becoming accustomed to pain – if there's no pain, you're not trying hard enough! Her personal definition of failure is never to have tried and it is this appetite for challenging herself and pushing boundaries that propelled her into professional sport, onto phenomenal success in Ironman and is now delivering impressive results in her current activities, such as establishing a women's race in the Tour de France and developing junior Parkrun.
Similarly, Rimla left a perfectly good job as a Chartered Accountant to follow her twin passions of sport and community. The younger sister of two brothers, she played football alongside her siblings as a child, so sport has always been part of her life and she has always enjoyed breaking the mould. However she couldn't predict that she would become just one of four women and one of two people of colour on the 100-strong committee of the Football Association, or Chair of the MWSF, championing a 'no excuses' policy to encourage the participation of Muslim women in sport. As a result of her background, Rimla has seen and experienced more boundaries than most: her approach has been to break through them rather than be stalled by them. Both women generously distilled their experiences into some guiding principles.
Chrissie's top tips:
1) Find your passion.
Look inside yourself and discover what makes your heart sing. This is evident in Chrissie's whole demeanour: she dances around and fizzes with the energy and determination that flows from her passion.
2) Take a chance. Step out of your comfort zone and set a goal that makes you nervous.
3) Know your motives. Once you know them, keep them in view – write them down, save on your screensaver, stick them on your fridge. Constantly remind yourself why you're doing this.
4) Share the journey. Gather a support team around you to help you through the tough times and celebrate with you in the good ones.
5) Follow a plan – yet also be prepared to innovate and adapt.
6) Take a holistic approach. Winners are not necessarily the most technically capable, but those who pay attention to the details others may overlook.
7) Embrace challenges. Cultivate endurance and tenacity. We learn and improve through confronting difficulty (and sometimes failing).
8) Remember your mind is your most powerful weapon.
Again, Chrissie is the embodiment of this. Yes, she is superbly fit, physically. Yet the forcefield of her determination and commitment are even more arresting.
Using the power of three, of which I am a big fan, Rimla also shared her tips:
1) Connection – it's about more than just you, it's about your relationships with others.
2) Communication – to bring about change, you need to be able to influence people and bring them along with you.
3) Flexibility – change is endless and constant so you have to develop the ability to adapt.
A 'bonus' theme from Rimla, which underpins the three above, is authenticity, because above all, you have to be true to your self. Both women agreed that our limits aren't where we think they are; that we're capable of challenging our boundaries, of raising the bar. They left us with the soul-searching questions: which of your boundaries would you like to break and what are you going to do about it? Compelling stuff!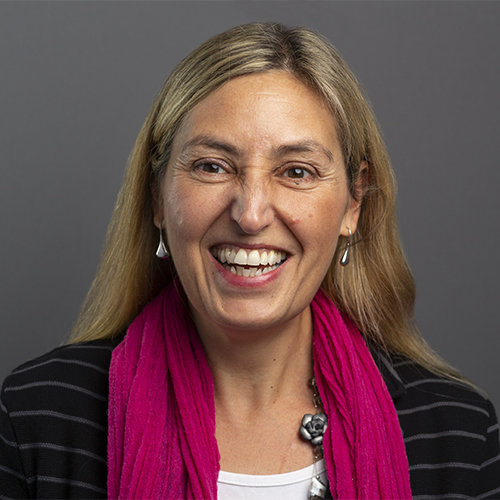 I like to describe myself as happily 'At Large' in an independent portfolio career, balancing coaching, leadership development, coach training and being a mum to my young daughter. Positive psychology is a big influence on my work and I've recently gained an MSc in Applied Positive Psychology & Coaching Psychology from the University of East London. My interests include reading, writing, travel, yoga, Zumba, coffee and wine! Connect with me on LinkedIn and sign up for my newsletter, Positive Intentions.