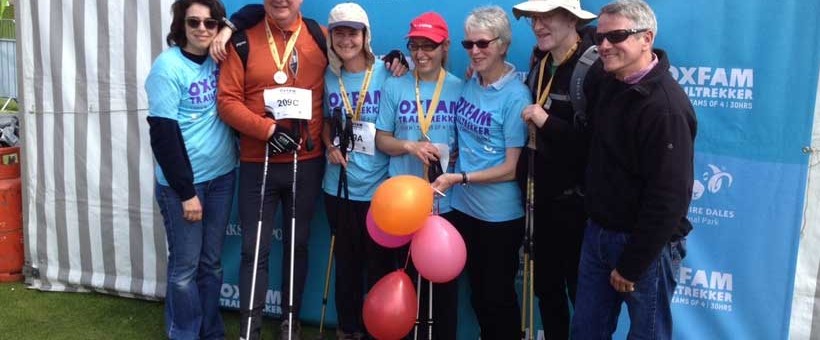 Posted by Liz Gooster
0 Comments
Oxfam Trailtrekkers, sponsored walk, teamwork, The Alliance, walking, Yorkshire Dales
The last energy drink has been drunk, the last Snickers bar has been eaten – and in the event we didn't need as many of either as we thought we might. We did it! The Alliance Yompers yomped home after a blistering 108km (the 100km turned out to be a neat marketing number) in 28 hours 32 minutes. What a team. The walkers were all in remarkably good shape at the end of the Trailtrekkers course and we were definitely all still smiling as we were buoyed across the finish line on a wave of euphoria and exhaustion.
We put this down to the back-up provided by our remarkable support crew. They fed us energy-giving, appetite-tempting food, from soups and sandwiches to homemade cakes and bacon sandwiches. They stretched out our stiff, weary legs at every stop and tended our blisters. They sent motivational messages from South Africa. They dressed up in pink romper suits and rude aprons with sheep on. They drove down winding country roads in the dead of night without any sleep. They fetched and carried for us, they hugged and smiled. And most importantly, they were with us not just physically at checkpoints, but in our hearts and minds at every step of the way.
Also very present in our thoughts were all our family, friends, colleagues, clients and well-wishers. We've been overcome by the support we've received, in donations but also in motivational messages. This meant a lot: we wanted to do our best not just for ourselves, and for Oxfam, but for everyone we knew was behind us as we walked. The course itself was gruelling but spectacular. It took us past mirror-flat canals and through rain-lush valleys; across boggy hillsides and up brutally steep gravel forest paths; up endless rocky steps onto bleakly beautiful limestone escarpments; through quintessentially English villages of warm stone cottages;through fields of dazzling yellow buttercups; and past furry Highland cattle weeing in streams. Walking through the night was cold and tiring, but also magnificent. The sky arched black and silent above us, speckled with stars and with a jagged half moon hanging watchfully above us. Oxfam volunteers had hung glow sticks in trees to guide us, and as we groped our way along the uneven ground underfoot they were like little beacons beckoning us to success. Quite magical.
As Sunday dawned, a sunny glow hung above the river we were tramping alongside and we knew we were going to make it. Eight weary hours later, we arrived back in Skipton and began what felt like a victory lap through the town to Airedale College, with locals of all ages congratulating us. Reaching the finish line, where we'd started out over 28 hours earlier, apprehensive and unknowing, was a proud and emotional moment. We hugged each other and our supporters and bowed our heads to receive our well-earned Trailtrekkers medals. We hadn't known in advance if we could do it, but we did it, and the achievement feels like something worth savouring.
We'd like to thank you all again for your support and your interest. You helped make it possible and we are well on our way towards our goal of becoming Platinum fundraisers by raising £10,000 to help Oxfam help people in need. And of course it's not too late to donate! All you need to do is visit our Just Giving page
If you liked this post you might also like:
This post on our preparation and our state of mind a few days before the Big Day itself
This post on our training as part of the build-up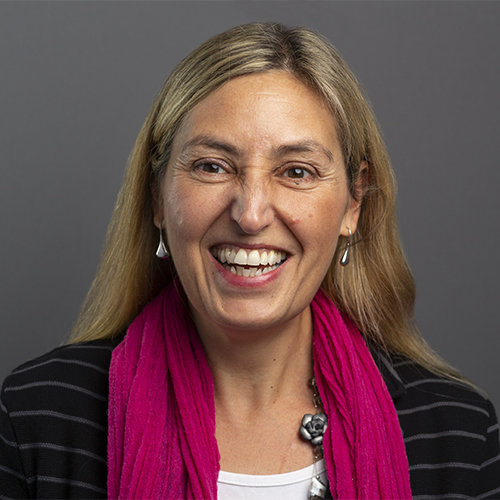 I like to describe myself as happily 'At Large' in an independent portfolio career, balancing coaching, leadership development, coach training and being a mum to my young daughter. Positive psychology is a big influence on my work and I've recently gained an MSc in Applied Positive Psychology & Coaching Psychology from the University of East London. My interests include reading, writing, travel, yoga, Zumba, coffee and wine! Connect with me on LinkedIn and sign up for my newsletter, Positive Intentions.